Dishing out daily (or almost daily) Broadway musical news and gossip. The companion site to The Broadway Musical Home (broadwaymusicalhome.com), a directory of Broadway musicals with the story, songs, merchandise, video clips, lyrics, tickets, rights & awards for almost 200 shows.
Archive for Catch me if you Can

NEW YORK TIMES REVIEW
"As befits a lad of the 1960s with a talent for smooth come-ons, Frank Abagnale Jr. prefaces the story of his life with the promise that it will have "more curves than a Playboy bunny." But as presented in the new musical "Catch Me if You Can," which opened Sunday night at the Neil Simon Theater, this portrait of the con artist as a young man (portrayed by Aaron Tveit) seems to consist mostly of straight lines, like the kind you use to connect the dots in picture puzzles. "
Click here to read the full "Catch Me If You Can" review.
ASSOCIATED PRESS REVIEW
"New Broadway shows this spring are lousy with cads. There's J. Pierrepont Finch in "How to Succeed in Business Without Really Trying," Harry Brock in "Born Yesterday" and pretty much all the dudes in "That Championship Season." With the hero of "Catch Me If You Can," add one more scoundrel."
Click here to read the full "Catch Me If You Can" review.
VARIETY REVIEW
"In "Catch Me If You Can" — the new musical based on the 2002 Steven Spielberg film starring Leonardo DiCaprio and Tom Hanks — teenaged conman Frank Abagnale Jr. recounts his daring escapades in the format of a 1960s TV spectacular; each step in crime is shown as a perky-but-flat variety-show production number. That's the conceit of the new tuner, and the problem as well. Impressive star performances from Norbert Leo Butz and Aaron Tveit, a lively production, the best sounding new music currently on Broadway — all built around a succession of glossily frenetic, non-compelling production numbers."
Click here to read the full "Catch Me If You Can" review.
HOLLYWOOD REPORTER REVIEW
"The Bottom Line: This musical adaptation of the Steven Spielberg film scores on showmanship but shortchanges its lead character. "
Click here to read the full "Catch Me If You Can" review.
NEWSDAY REVIEW
"News that the guys from "Hairspray" and "Dirty Rotten Scoundrels" were making a musical based on the movie "Catch Me If You Can" raised a couple of intriguing — also daunting — questions. How? And why?"
Click here to read the full "Catch Me If You Can" review.
AM NEW YORK REVIEW
""Catch Me If You Can," the eagerly anticipated Broadway musical based on the breezy 2002 Leonardo DiCaprio film, is a product of essentially the same creative team behind the mega-hit "Hairspray." It's even playing in the same theater as "Hairspray" and shares an early 1960s setting."
Click here to read the full "Catch Me If You Can" review.
CHICAGO TRIBUNE REVIEW
"The key to turning "Catch Me If You Can" into a Broadway musical was within the very title of the 2002 Steven Spielberg movie that served as the source. It encapsulates the thrill of the chase, a quality sadly lacking in the show that opened Sunday night at the Neil Simon Theatre. And it conveys the slippery charm of the lovable trickster rogue — in this case, Frank Abagnale Jr., the youthful master forger of those predigital swinging '60s, a guy who fooled banks and airlines but was eventually brought down by his own need for love."
Click here to read the full "Catch Me If You Can" review.
That's right, it's time for another massive news roundup. There's a lot to catch up on, so without any further ado, here we go…
The Broadway premiere of Andrew Lloyd Webber's Love Never Dies will open at the Neil Simon Theater in the spring of 2011 due to some health complications of ALW's part. The show, which was to open on Broadway in November of 2011, has been playing to somewhat mixed reviews on the West End. The big buzz about the delay is in regards to Jack O'Brien (director) and Jerry Mitchell (choreographer) because…
Catch Me If You Can is officially opening on Broadway in the spring of 2011! Producers Hal Luftig and Margo Lion have confirmed that rehearsals for the show that premiered at Seattle's 5th Avenue will begin in January. A theatre and the exact dates of production have not yet been announced, but O'Brien and Mitchell are on board, and it is assumed that the big names associated with the production (Aaron Tveit, Tom Wopat, Norbert Leo Butz) will be headliners.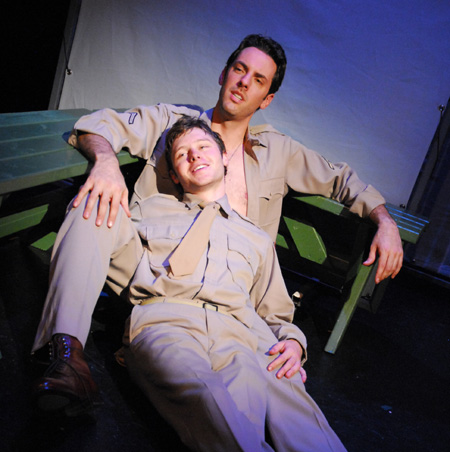 Another exciting transfer is that of Yank!, the Off-Broadway hit that just closed at the York Theater Company. Producers Pamela Koslow and Karl Held have announced plans to bring the 'don't ask, don't tell' G.I. musical to the Great White Way during the 2010-11 season. No news as to whether Bobby Steggert and Ivan Hernandez will repeat the roles they originated on Broadway.
Another Off-Broadway hit, Sherie Rene Scott's Everyday Rapture is headed to Broadway thanks to Megan Mullally's sudden and late departure from Lips Together, Teeth Apart. Everyday Rapture will open on April 29, 2010, so it will be in the running for this year's Tony Awards.
The other sudden departure was that of the show All About Me, which, after being panned harshly by critics, ended its Broadway run after only 20 performances. That, ladies and gentlemen, is what we call a flop.
But enough depressing news…here's some happy news:
Next to Normal officially recouped its investment!
Henry Miller's Theatre was renamed in Stephen Sondheim's honor!
John Cameron Mitchell's Hedwig and the Angry Inch may be headed to Broadway in the fall!
And yes, it's not technically Broadway, but since so many Off-Broadway shows are transferring these days, I thought it worth mentioning that Bloody Bloddy Andrew Jackson, a new musical about the guy you talked about in history class is generating nothing but great buzz. If you want to see it while the price is right, get over to the Public Theatre ASAP.