Dishing out daily (or almost daily) Broadway musical news and gossip. The companion site to The Broadway Musical Home (broadwaymusicalhome.com), a directory of Broadway musicals with the story, songs, merchandise, video clips, lyrics, tickets, rights & awards for almost 200 shows.
Archive for John Cameron Mitchell
And now for something completely different!  The reviewers give the Broadway premier of Hedwig and the Angry Inch two emphatic rock 'n roll horns and one long, outstretched Gene Simmons tongue.  Neil Patrick Harris owns the central role in this hard rock musical about the gender-mysterious lead singer of a German rock band.  His charisma, confidence, and showmanship match the energy of the ultra-crazy tech effects and his adept handling of struggles balances a personality to which almost no one is similar but everyone can relate.  The John Cameron Mitchell and Stephen Trask musical plays at the Belasco Theatre and is nirvana for those seeking a Broadway night out of a totally different (and much more hard rockin' and glitter-laden) variety.
NEW YORK TIMES
"Do not be alarmed by recent reports that Neil Patrick Harris, an irresistibly wholesome television presence, has fallen deeply and helplessly into the gap that separates men from women, East from West, and celebrity from notoriety. There's no need to fear for his safety, much less his identity. Quite the contrary. Playing an "internationally ignored song stylist" of undefinable gender in Hedwig and the Angry Inch, Mr. Harris is in full command of who he is and, most excitingly, what he has become with this performance. That's a bona fide Broadway star, the kind who can rule an audience with the blink of a sequined eyelid."
TIME OUT NEW YORK
"The omnitalented Neil Patrick Harris plays the titular crotch-botched German rock singer in the first Broadway production of John Cameron Mitchell and Stephen Trask's genre-bending 1998 rock musical. Transitioning from child star to adult gay icon, sitcom prince and social-media wizard, Neil Patrick Harris always seemed to be a cultural rock star. But in his latest reinvention, it turns out that the actor is, y'know, an actual rock star. As the imperious, spurned, fright-bewigged, sweaty glitterbomb at the heart of Hedwig and the Angry Inch, Harris makes Broadway rock harder than it ever has before."
NBC NEW YORK
"If David Belasco's ghost really does haunt the balcony of his namesake theater off Sixth Avenue, as Neil Patrick Harris declares at the start of Hedwig and the Angry Inch, he is, by now, both deaf and blind. That's not such a bad thing. If you've gotta lose two key senses, I can think of no more auspicious way to bid them auf wiedersehen than via the 95-minute stretch of ear-splitting rock and aggressive strobe-lighting that is the new take on Hedwig, the John Cameron Mitchell and Stephen Trask musical about a rock-and-roll band fronted by an East German singer disfigured in a botched sex change operation."
VARIETY
"The screaming starts when a bespangled Neil Patrick Harris parachutes onstage in Hedwig and the Angry Inch and doesn't stop until he's back in his dressing room. That's the kind of rock-star performance he gives in this spectacular revival — helmed with fabulous flash by Michael Mayer — of the 1998 musical (and later movie) by John Cameron Mitchell (book) and Stephen Trask (music & lyrics). Harris' Hedwig is an imperfectly transformed transvestite who grew up in East Berlin before the wall came down, resplendent in the punk drag of a nihilistic rocker but still concealing a heap of hurt under her wig."
AM NEW YORK
"Neil Patrick Harris, who appeared on Broadway three times before being scooped up by How I Met Your Mother for nine years, still managed to maintain a regular presence in the theater by hosting the Tony Awards no less than four times. Now that his long-running sitcom has ended, not only is Harris back onstage, he is tackling one of the most outsized, flamboyant and intense musical theater roles ever created in the first Broadway staging of Hedwig and the Angry Inch."
ASSOCIATED PRESS
"It's obvious from the first moments of Hedwig and the Angry Inch that star Neil Patrick Harris is doing something special. And it's not just trying on a new role. He is lowered to the stage in a jumpsuit and ferociously feathered blond wig and immediately begins the show's first rock-punk song, getting down on all fours, grinding into the microphone stand or licking the guitarist's strings. The crowd inside of the Belasco Theatre, where the show opened Tuesday, loses its mind, and why not? "Thank you! Thank you, you're so sweet," Harris says. "I do love a warm hand on my entrance.""
That's right, it's time for another massive news roundup. There's a lot to catch up on, so without any further ado, here we go…
The Broadway premiere of Andrew Lloyd Webber's Love Never Dies will open at the Neil Simon Theater in the spring of 2011 due to some health complications of ALW's part. The show, which was to open on Broadway in November of 2011, has been playing to somewhat mixed reviews on the West End. The big buzz about the delay is in regards to Jack O'Brien (director) and Jerry Mitchell (choreographer) because…
Catch Me If You Can is officially opening on Broadway in the spring of 2011! Producers Hal Luftig and Margo Lion have confirmed that rehearsals for the show that premiered at Seattle's 5th Avenue will begin in January. A theatre and the exact dates of production have not yet been announced, but O'Brien and Mitchell are on board, and it is assumed that the big names associated with the production (Aaron Tveit, Tom Wopat, Norbert Leo Butz) will be headliners.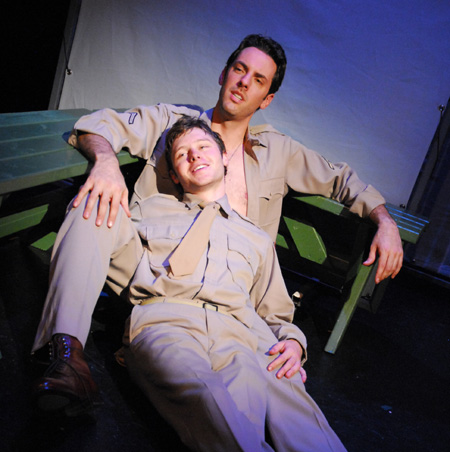 Another exciting transfer is that of Yank!, the Off-Broadway hit that just closed at the York Theater Company. Producers Pamela Koslow and Karl Held have announced plans to bring the 'don't ask, don't tell' G.I. musical to the Great White Way during the 2010-11 season. No news as to whether Bobby Steggert and Ivan Hernandez will repeat the roles they originated on Broadway.
Another Off-Broadway hit, Sherie Rene Scott's Everyday Rapture is headed to Broadway thanks to Megan Mullally's sudden and late departure from Lips Together, Teeth Apart. Everyday Rapture will open on April 29, 2010, so it will be in the running for this year's Tony Awards.
The other sudden departure was that of the show All About Me, which, after being panned harshly by critics, ended its Broadway run after only 20 performances. That, ladies and gentlemen, is what we call a flop.
But enough depressing news…here's some happy news:
Next to Normal officially recouped its investment!
Henry Miller's Theatre was renamed in Stephen Sondheim's honor!
John Cameron Mitchell's Hedwig and the Angry Inch may be headed to Broadway in the fall!
And yes, it's not technically Broadway, but since so many Off-Broadway shows are transferring these days, I thought it worth mentioning that Bloody Bloddy Andrew Jackson, a new musical about the guy you talked about in history class is generating nothing but great buzz. If you want to see it while the price is right, get over to the Public Theatre ASAP.