Dishing out daily (or almost daily) Broadway musical news and gossip. The companion site to The Broadway Musical Home (broadwaymusicalhome.com), a directory of Broadway musicals with the story, songs, merchandise, video clips, lyrics, tickets, rights & awards for almost 200 shows.
Archive for St. James Theater

The reviews for Let It Be are in, and though the press found the all of the performers talented, they couldn't have been more nonplussed, most deeming the show merely a concert by a talented cover band. All brought up how similar in content it was to 2010's Rain (whose rights' holders think it's so similar as to warrant a 50/50 split of revenue) and 1977's Beatlemainia, which ran for two years. But whether they thought it was a concert or a revival with a different name, they all saw baby boomers and young people alike smiling, dancing and having a great time. If you're uninterested in Beatles nostalgia and don't deem this a real Broadway production, go see another show, but if you're looking to relive your childhood or enjoy to a bunch of songs you know and love, performed well…Let It Be may be just the show for you.
NEW YORK TIMES
"Yes, another Beatles tribute is on Broadway. Wasn't it just yesterday that Rain opened at the Neil Simon? Pretty much. It was 2010, and Charles Isherwood, reviewing it for The Times, called it "enhanced karaoke." In long-ago 1977, Beatlemania — "not the Beatles, but an incredible simulation" — opened at the Winter Garden and ran for two years. In his review for The Times, John Rockwell decreed it "an unobjectionable diversion." Gentle mods and rockers of a certain age, I saw them both. I cringed at the 1977 show. (I mean, all four of the real guys were still alive and in their 30s.) I let myself get carried away at the second. And I can happily report that Let It Be is by far the best of the bunch. The word "celebration" in the subtitle is well chosen, and the performers are outstanding, as nostalgia substitutes and as musicians in their own right. 'This is not really a Broadway show, is it?…It's a concert.'"
ASSOCIATED PRESS
"Even fake Beatles can bring back good memories of the real thing, when they're truly talented…If you can check your nostalgia at the door, the tribute show Let It Be that opened Wednesday night on Broadway at the St. James Theatre stands on its own as a lively, multimedia concert and a rocking good time…There's no question who these enthusiastic musicians are portraying. In fact, it's a little creepy for those who were around during the originals to see the two deceased Beatles accurately reincarnated. Visually invoking Lennon, Reuven Gershon performs with appropriate cool, while John Brosnan is nicely intense as lead guitarist George Harrison. Enacting still-living Beatles, James Fox incorporates eye-rolling, winking mannerisms and soaring vocals reminiscent of the young McCartney, while drummer Luke Roberts has a head-bopping good time as Ringo Starr. Those four musicians performed in an energetic preview that often had the crowd up on its feet, clapping and singing along…The production is visually appealing, with an array of colorful, sometimes trippy graphics and the grainy news clips or photos projected above, behind and sometimes all around the band."
HOLLYWOOD REPORTER
"Another year, another Beatles tribute show on Broadway. Less than two years after the Fab Four were last resurrected in Rain, the similarly conceived and executed Let It Be has arrived to satisfy the nostalgic demands of aging baby boomers. Indeed, this show is so closely patterned after Rain that its creators have initiated a lawsuit arguing copyright infringement. But whatever legal complications ensue, there's no doubt that the experience is virtually the same…It's essentially a concert by an excellent cover band, featuring elaborate visual trappings. Your enjoyment of the experience will depend both on your affection for the music and willingness to suspend disbelief. If you squint, the four bewigged figures onstage are an approximate visual representation of John, Paul, George and Ringo. And their delivery of the classic material — most of which, ironically, the Beatles never actually performed live — is certainly accomplished enough to be enjoyable. Audiences may well wonder whether the experience is worth paying up to $135 for tickets (more for premium seats), especially when a real live Beatle, Paul McCartney, has been touring this summer. But then again, there's no underestimating the ageless appeal of this legendary band."
AM NEW YORK
"Let It Be is the latest in the never-ending parade of cheap, cheesy Beatles tribute concerts on Broadway that has previously included such titles as Beatlemania in the late 1970s and Rain just three seasons ago. They all represent slight variations on the same formula, in which a handful of competent singer-musicians, while not technically playing the Fab Four as characters, stand in and dress up like them and earnestly pay homage to their vocal and musical abilities and accents. In addition to trippy computer graphics, video clips show fans going wild at the original concerts. In contrast, the performers of Let It Be actively need to encourage their dazed audience to clap along or stand up to get their juices flowing. Seeing as those attending Let It Be probably already appreciate all the best-known Beatles songs, they are likely to have a somewhat pleasant experience despite the generally unexciting and derivative nature of the enterprise. In just a few months, a lot of very exciting things will be happening on Broadway. Let It Be is just an unambitious, summertime space filler. Just let it be. Soon enough it'll go away — and another Beatles tribute show is sure to come along eventually."
USA TODAY
"Watching the new Beatles homage Let It Be (* * ½ out of four), certain audience members are bound to feel a sense of déjà vu — not for the Fab Four themselves, but for the last Broadway salute to them. Creators of Rain, in fact, filed suit against producers of Let It Be in June, contending that the latter show borrows many elements from the former one…Yet while the shows are strikingly similar in tone and structure…there's a certain irony in claiming creative ownership of a purely re-creative act. Let It Be, which premiered in London last year, aspires to be nothing more than a nostalgia trip, and as such it's about as engaging as you could expect…The between-song patter can seem as contrived as their accents, and there are patronizing appeals to older audience members — as when Lennon asks if they remember "when CDs were black" and had two sides, holding up an old LP with reverent affection. Luckily, Let It Be's company, which includes supporting musicians, is competent enough as singers and instrumentalists to make the numbers compelling…But more driving, muscular favorites, from Ticket to Ride to Come Together, were executed with enough panache to make you appreciate their magic, even without fully recapturing it. Which pretty much sums up both the appeal and the limitations of Let It Be — and other shows like it."
The reviews for Bring It On: The Musical, the latest fun and frothy show to hit the Great White Way are in. Unlike the cheerleading predecessor from last season, Lysistrata Jones, reviewers were elated with the acrobatics and silly (if predictable) fun that marks this production. Brought to Broadway after a journey that began in Atlanta and continued to develop over the course of a national tour, reviewers agree that the unorthodox out-of-town tryout this show enjoyed only helped make it better. Adolescents and their parents are flocking to see it, but the run is short, so if it's on your list, get in line now!
NEW YORK TIMES
"Cheerleading, that most American of pastimes, is not likely to become an Olympic sport anytime soon. Yet the highly acrobatic, gasp-inducing style of sis-boom-bah competition celebrated in "Bring It On: The Musical," which opened Wednesday night at the St. James Theater, almost makes you believe that it should be. The cast of this alternately snarky and sentimental show about rival high school cheer squads often seems to be in constant motion, tumbling and flipping across the stage in elaborate routines that culminate in towering formations of human pyramids."
AM NEW YORK
"This new musical inspired by the 2000 Kirsten Dunst film about competitive high school cheerleaders, which has played a long national tour before its limited run on Broadway, is obviously more likely to appeal to teens weaned on "High School Musical" and "Glee" than the majority of adult theatergoers."
HOLLYWOOD REPORTER
"While the standard path for a major stage musical is to bow in a regional tryout, move to Broadway and then on to a national tour, the producers of Bring It On: The Musical were smart to shuffle that established order. The streets are littered every season with the early closing notices of shows unable to withstand Broadway's tough economics. But this peppy teen cheerleader faceoff has been built to travel, premiering last year in Atlanta before launching a tour in November in Los Angeles. On the road since then, it touches down for a 12-week summer stint on Broadway, where it should prove a crowdpleaser with the target demographic."
BACKSTAGE
""Bring It On: The Musical" aspires to be nothing more than a frothy distraction with just a hint of that time-honored moral "Winning isn't everything." This wisp of cotton candy about a high school cheerleading competition is "inspired" by the Universal Pictures film franchise of the same title. Aimed squarely at teenage girls and designed to tour the country, the show would probably feel more at home at Madison Square Garden than on the stage of the St. James Theatre, where it is playing a two-month booking."
NEWSDAY
"In some ways, Broadway has always been an extreme competitive sport. When young musical-theater talents dreamed of their first Broadway show, however, they probably never envisioned being tossed 20 feet into thin air or balancing on a castmate's raised hand and the sole of a single sneaker."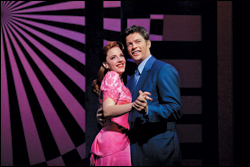 The reviews for On a Clear Day You Can See Forever are in, and though they aren't the worst we've seen this season, they are nowhere near rave reviews. With some very intensive script-changes that throw gender-bending into the mix, critics found the new book almost as problematic as the original. The biggest upset was the splitting of the main female character's multiple personalities into multiple cast members, rather than keeping it a showcase of one actress' abilities. Most agree that Christine Jones' sets and the songs themselves were the greatest stars, but overall were underwhelmed by this "reincarnation."
NEW YORK TIMES
Toward the long-awaited end of the new semirevival of "On a Clear Day You Can See Forever," which opened on Sunday at the St. James Theater, an eminent psychiatrist proposes that what we have been watching was perhaps only "my own psychoneurotic fantasy."
Click here to read the full "On A Clear Day You Can See Forever" review.
ASSOCIATED PRESS
The diagnosis is in for Harry Connick Jr.'s Broadway musical about a psychiatrist undergoing a psychic meltdown: It needs more time on the couch.
Click here to read the full "On A Clear Day You Can See Forever" review.
HOLLYWOOD REPORTER
Respect to director Michael Mayer and playwright Peter Parnell for their audacious attempt at reinventing a problematic musical in the Broadway revival of On a Clear Day You Can See Forever. The 1965 show has always been much loved for its lush Burton Lane score but denied the stamp of greatness by Alan Jay Lerner's over-complicated structural mess of a book.
Click here to read the full "On A Clear Day You Can See Forever" review.
VARIETY
The play initially was constructed as a vehicle for a star singer/comedienne (played by Barbara Harris on stage, Barbra Streisand on screen). The challenge and the fun came from watching an insecure neurotic instantly and repeatedly transformed through hypnosis into her glamorous, past-life self. Mayer has seen fit to divide this star part in half and have it played by two actors, removing the one element that thoroughly worked in the original.
Click here to read the full "On A Clear Day You Can See Forever" review.
NEWSDAY
It's a relief and a special pleasure to report that Mayer, in a square-cornered turn from his smart-rock productions of "Spring Awakening" and "American Idiot," has joined playwright Peter Parnell to change an unworkable plot into a more-than-serviceable gender-bending framework. There's a mostly-classy cast, a fantasy op-art set and almost two dozen wonderful songs from the Broadway production and the film.
Click here to read the full "On A Clear Day You Can See Forever" review.