Dishing out daily (or almost daily) Broadway musical news and gossip. The companion site to The Broadway Musical Home (broadwaymusicalhome.com), a directory of Broadway musicals with the story, songs, merchandise, video clips, lyrics, tickets, rights & awards for almost 200 shows.
Archive for St. James Theater
The reviews for Bring It On: The Musical, the latest fun and frothy show to hit the Great White Way are in. Unlike the cheerleading predecessor from last season, Lysistrata Jones, reviewers were elated with the acrobatics and silly (if predictable) fun that marks this production. Brought to Broadway after a journey that began in Atlanta and continued to develop over the course of a national tour, reviewers agree that the unorthodox out-of-town tryout this show enjoyed only helped make it better. Adolescents and their parents are flocking to see it, but the run is short, so if it's on your list, get in line now!
NEW YORK TIMES
"Cheerleading, that most American of pastimes, is not likely to become an Olympic sport anytime soon. Yet the highly acrobatic, gasp-inducing style of sis-boom-bah competition celebrated in "Bring It On: The Musical," which opened Wednesday night at the St. James Theater, almost makes you believe that it should be. The cast of this alternately snarky and sentimental show about rival high school cheer squads often seems to be in constant motion, tumbling and flipping across the stage in elaborate routines that culminate in towering formations of human pyramids."
AM NEW YORK
"This new musical inspired by the 2000 Kirsten Dunst film about competitive high school cheerleaders, which has played a long national tour before its limited run on Broadway, is obviously more likely to appeal to teens weaned on "High School Musical" and "Glee" than the majority of adult theatergoers."
HOLLYWOOD REPORTER
"While the standard path for a major stage musical is to bow in a regional tryout, move to Broadway and then on to a national tour, the producers of Bring It On: The Musical were smart to shuffle that established order. The streets are littered every season with the early closing notices of shows unable to withstand Broadway's tough economics. But this peppy teen cheerleader faceoff has been built to travel, premiering last year in Atlanta before launching a tour in November in Los Angeles. On the road since then, it touches down for a 12-week summer stint on Broadway, where it should prove a crowdpleaser with the target demographic."
BACKSTAGE
""Bring It On: The Musical" aspires to be nothing more than a frothy distraction with just a hint of that time-honored moral "Winning isn't everything." This wisp of cotton candy about a high school cheerleading competition is "inspired" by the Universal Pictures film franchise of the same title. Aimed squarely at teenage girls and designed to tour the country, the show would probably feel more at home at Madison Square Garden than on the stage of the St. James Theatre, where it is playing a two-month booking."
NEWSDAY
"In some ways, Broadway has always been an extreme competitive sport. When young musical-theater talents dreamed of their first Broadway show, however, they probably never envisioned being tossed 20 feet into thin air or balancing on a castmate's raised hand and the sole of a single sneaker."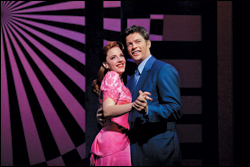 The reviews for On a Clear Day You Can See Forever are in, and though they aren't the worst we've seen this season, they are nowhere near rave reviews. With some very intensive script-changes that throw gender-bending into the mix, critics found the new book almost as problematic as the original. The biggest upset was the splitting of the main female character's multiple personalities into multiple cast members, rather than keeping it a showcase of one actress' abilities. Most agree that Christine Jones' sets and the songs themselves were the greatest stars, but overall were underwhelmed by this "reincarnation."
NEW YORK TIMES
Toward the long-awaited end of the new semirevival of "On a Clear Day You Can See Forever," which opened on Sunday at the St. James Theater, an eminent psychiatrist proposes that what we have been watching was perhaps only "my own psychoneurotic fantasy."
Click here to read the full "On A Clear Day You Can See Forever" review.
ASSOCIATED PRESS
The diagnosis is in for Harry Connick Jr.'s Broadway musical about a psychiatrist undergoing a psychic meltdown: It needs more time on the couch.
Click here to read the full "On A Clear Day You Can See Forever" review.
HOLLYWOOD REPORTER
Respect to director Michael Mayer and playwright Peter Parnell for their audacious attempt at reinventing a problematic musical in the Broadway revival of On a Clear Day You Can See Forever. The 1965 show has always been much loved for its lush Burton Lane score but denied the stamp of greatness by Alan Jay Lerner's over-complicated structural mess of a book.
Click here to read the full "On A Clear Day You Can See Forever" review.
VARIETY
The play initially was constructed as a vehicle for a star singer/comedienne (played by Barbara Harris on stage, Barbra Streisand on screen). The challenge and the fun came from watching an insecure neurotic instantly and repeatedly transformed through hypnosis into her glamorous, past-life self. Mayer has seen fit to divide this star part in half and have it played by two actors, removing the one element that thoroughly worked in the original.
Click here to read the full "On A Clear Day You Can See Forever" review.
NEWSDAY
It's a relief and a special pleasure to report that Mayer, in a square-cornered turn from his smart-rock productions of "Spring Awakening" and "American Idiot," has joined playwright Peter Parnell to change an unworkable plot into a more-than-serviceable gender-bending framework. There's a mostly-classy cast, a fantasy op-art set and almost two dozen wonderful songs from the Broadway production and the film.
Click here to read the full "On A Clear Day You Can See Forever" review.