There have been lots of casting changes announced in recent weeks, so rather than making you read multiple entries, I thought I would do a lovely roundup of all of them for you!
STARTING AUGUST 17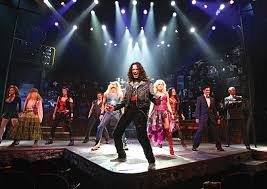 Rock of Ages
Don Stephenson (The Producers, Dracula, By Jeeves, Titanic, Private Lives, Parade, Wonderful Town) temporarily steps in for Paul Schoeffler in the role of Hertz in Rock of Ages. Schoeffler is on leave to play Lawrence in the Walnut Street Theatre's Dirty Rotten Scoundrels and will return to the show on Oct. 26.
STARTING AUGUST 18
Burn the Floor
Anya Garnis and Pasha Kovalev ("So You Think You Can Dance") take over for Maksim Chmerkovskiy and Karina Smirnoff ("Dancing with the Stars") in the new musical Burn the Floor.
Wicked
Michelle Federer, who originated the role of Nessarose in the Broadway production of Wicked, returns to the role, taking over for Cristy Candler.
Chicago
Talk show host Jerry Springer is stepping into the role of Billy Flynn in Broadway's Chicago. He will play the role through September 6.
Shrek
Ben Crawford (Les Miserables), the current standby for Brian d'Arcy James, will take over the title role in Shrek on November 10 and Robb Sapp (Wicked) will temporarily step into the role of Pinocchio, replacing John Tartaglia during his leave of absence (Tartaglia will return mid December).
STARTING AUGUST 22
Billy Elliot
Trevor Braun (Beauty and the Beast, The Little Mermaid) will join the cast of Broadway's Billy Elliot a couple days later than originally announced (the 22nd, rather than the 18th). He and Tony nominee David Bologna will alternate in the role of Michael.